FEEDING ACTIVITY, Toys and mask distribution in sitio tabtaban, barangay tuban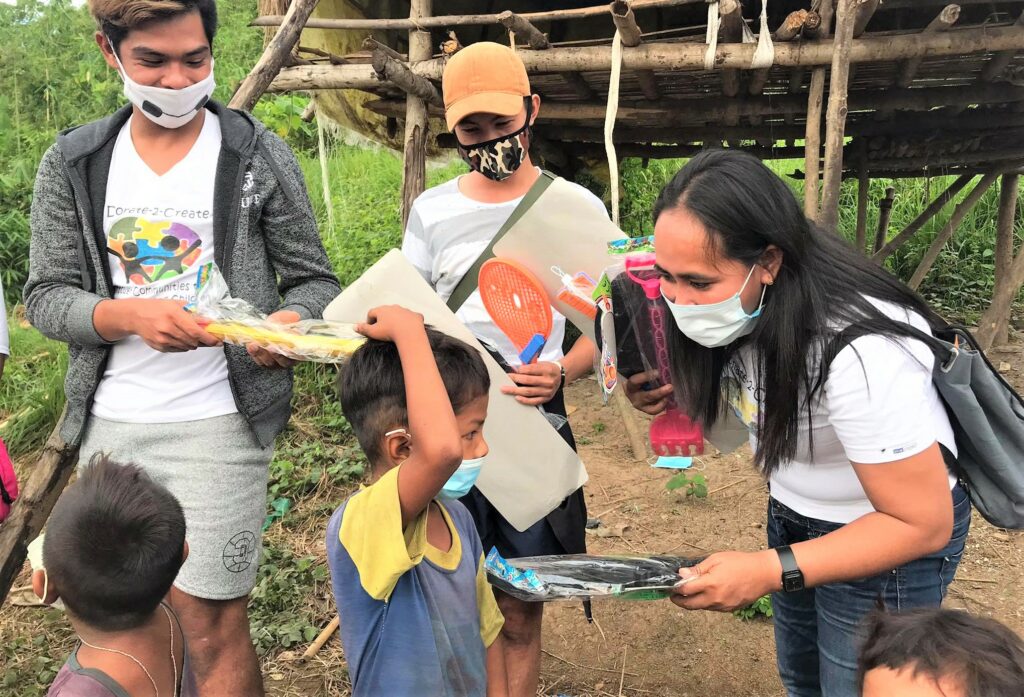 It was a success!
We held a fun and meaningful children's activity in the Mangyan Community, located in Sitio Tabtaban. This community has around thirty (30) families. These families once lived in Barangay Pag-asa, situated in the northern part of Sablayan. They  were subsistence farmers and solely relied on charcoal making as well as slash-and-burn farming ( kaingin ) to plant sweet potatoes, bananas and other vegetables  for livelihood.
However,   the severe destruction and increased frequency of the typhoons in the last years  had forced them to flee and looked for other suitable and safe place to live.
The government allowed them to settle in this area – around 15-20 minutes away from the town proper and the settlement is just  some steps away from the main road. Families are living in small stilt houses.  For them, houses are just temporary dwelling as families move from one place to another to seek better land to continue subsistence farming.  They have around fifty (50)  young children in this community. All of them do not go to formal school. Like their parents , they do not know how to read and write.
Like other indigenous communities around the municipality, they are also struggling to get the basic needs to survive. Continuous armed conflict between military personnel and rebel, climate change affecting local weather, and increased intensities of typhoon, land disputes, and conflict with environmental laws continue to threaten their livelihood and culture. With no other means to live and lack of sufficient assistance from the government, they work in farms, rice paddies, and cornfields, cutting grasses and pulling weeds to supplement their income.These factors altogether put their lives, especially young children at greater risk.
To bring hope and joy to the families, and talk to them to get to know more about them and how we can bring help with lasting impact, we decided to give a short visit to the community. With the help of our generous sponsors and the assistance of the Special Action Force (SAF) personnel in cooking and transport,  we successfully conducted a feeding program for the children. As part of the health and safety measures issued by the local government, we gave them free masks to be worn during the activity. Children gathered in groups to enjoy hot meals consisting of boiled rice and sautéed monggo (mung beans) with fish and malunggay (moringa ) leaves. We also gave the children toys. The activity was also filled with fun games that keep the children happy and entertained. Lastly, as they requested, we also gave them a ball so that they can continue playing in their customized basketball court.
Here are some more snaphots taken from the activity.