we help indigent children and communities in sablayan municipality
Donate-2-Create : Sablayanihan seeks to help underprivileged children of Sablayan by providing them free basic necessities which could help them succeed in life. Beneficiaries of our program are the children of fisher folk, farmer, indigenous peoples – the Mangyans and other low-income families whose income are insufficient to support the children´s basic needs.
Together with generous donors, local officials and communities we work to promote the well-being of these children and help fulfill their full potential.
Sablayan is one of the municipalities of Occidental Mindoro Province. With a total land area of 2,188.80 square kilometers, it is considered as the largest municipality of the Philippines. It is subdivided to twenty-two (22) barangays. Majority of its over 90, 000 inhabitants are engaged in farming and fishing.
The municipality's waters, forests and mountains are unique habitats of of some of most endangered and endemic plant and animal species. It is also the home of the Tao Buid and Batangan tribes of the Mangyan, the indigenous peoples of the island of Mindoro.
YOUNG CHILDREN OF SABLAYAN AND EDUCATION SYSTEM
Most schools in Sablayan are publicly-owned – funded by the government and free of any fee. According to the Department of Education, Culture and Sports (DEPED) report last June 2017, the Municipality of Sablayan has 47 primary schools . There are around 14 500   children in public pre – school and primary schools. Like most public primary schools in the Philippines, these schools suffer from under-funding, lack of educational resources and teaching staff. Classes are often big and rooms are small . They have limited often overused and outdated textbooks. The teaching materials are either insufficient or non-existent, and teachers remain poorly paid.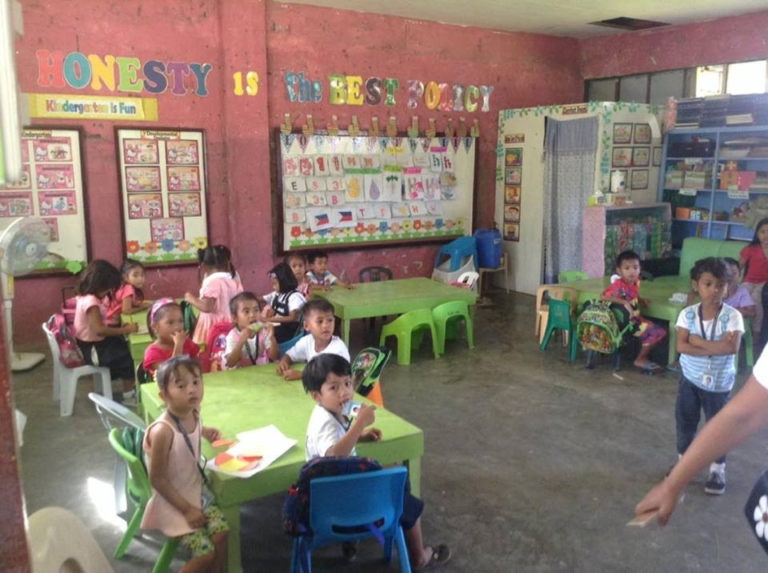 Primary education is compulsory until 6th Grade. Classes are held either in English and/or Filipino. School year normally runs from June to March. School week is Monday to Friday, from 7:30am to 4pm or 5pm. Schoolchildren usually have an hour lunch break. Most schools do not have canteen or cafeterias.They either go home for lunch or bring their own lunch to school to save money. After school, children from low-income families are worst off. They still have to work in the farm or help their families after school. Most of these children come from family of farmers, fishermen and ethnic minority groups ( Mangyans).
Schools in remote areas are usually ignored. Schoolchildren wake before sunrise, then walk across dirt, mud and stone in  slippers on the way to school. The road is particularly muddy during rainy season. But they still persevere to attend school and take advantage of whatever resources they have there to learn.