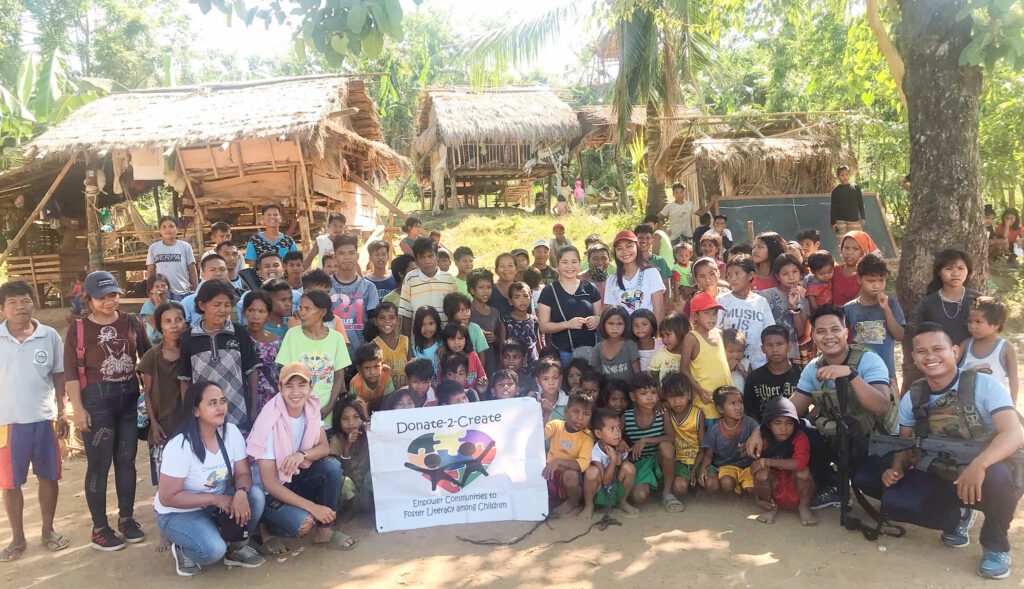 Donate-2-Create Sablayanihan is founded in Sablayan by youth volunteers to promote the welfare of indigent children and communities in the municipality.
Donate-2-Create Sablayanihan aims to foster well-being of underpriviliged children and indigent communities in the municipality of Sablayan, Occidental Mindoro, Philippines

We envision communities in Sablayan where every child are protected, cared for, and live in an environment that provided opportunities to improve their living conditions.
Before the popularity of social media where almost every student has been getting information from, books were a luxury to own and libraries were rare in the municipality. Books were expensive that families who owned some of them, put them in closed cabinets, not readily available for children to read. A local young woman saw the need to promote access to books of disadvantaged schoolchildren whose families could not afford to buy books. In 2005, she started Donate-2-Create Project, an initiative to promote the love of reading and foster literacy among the most disadvantaged children in the municipality. The initiative helped children acquire their first books beside their textbooks and established a library in local primary school.
 In August 2018, two successive tropical cyclones hit the province of Occidental Mindoro which left severe damaged on infrastructures, several fatalities, and left many people homeless. A group of young people asked assistance to extend relief to the underprivileged children in Pandan Elementary School who lost their personal belongings due to severe flooding and strong winds. Together with youth volunteers , Donate-2-Create managed to provide immediate assistance to children and their families to replace their lost school supplies, clothing and sanitary kits.
 Since then, Donate-2-Create worked together with youth volunteers and the term 'Sablayanihan' was formed.  Sablayanihan is a fusion of two words , (1) Sablayan – name of the municipality where the project operates , and (2) 'bayanihan' – a Tagalog word for  'spirit of communal unity, work and cooperation for a purpose.
 The name of the initiative was named Donate-2-Create : SABLAYANIHAN. In 2019, the group was registered as a non-stock / not-for-profit organization with the Securities and Exchange Commission (SEC) and Bureau of  Internal Revenue (BIR) under the name SABLAYANIHAN INC. The organization aims to promote the well-being of the most disadvantaged children in Sablayan, Occidental Mindoro.
SABLAYANIHAN Inc. is the non-profit organization  behind the Donate-2-Create: SABLAYANIHAN.
Securities and Exchange Commission  – Registration No : CN 201902533
Tax Identification No:  010-272-794-000
 Civil Society Organization Accreditation from SB (Sangguniang Bayan) of Sablayan : CA-2021-0001